---
Performance data and dimensions
Type Number
D [mm]
B [mm] 1
d max. [mm]
standard bore
diameter
d [mm] (inch) 2
Standard rotational speed
low
normal
high
M at nE 750 and
nB 1500 [Nm]
recommended
motor power
[kW] 3
M at nE 1250 and
nB 2500 [Nm]
recommended
motor power
[kW] 3
M at nE 1500 and
nB 3000 [Nm]
recommended
motor power
[kW] 3
F01
50
10
14
12
1.3
0.17
2
0.3
F02
60
15
18
15 (5/8)
4
0.5
5
0.8
F03
70
15
22
15; 20 (7/8)
7
0.9
10
1.6
F04
80
15
28
14 - 25 (3/4; 7/8)
4
0.3
11
1.4
16
2.5
F05
90
20
35
18; 20; 25 (3/4; 1)
10
0.8
26
3.4
40
6.3
F06
100
20
35
20; 24; 28 (3/4; 1)
16
1.3
42
5.5
60
9.4
F07
110
20
40
28; 35; 40 (1)
25
2.0
70
9.0
100
15.7
F08
125
20
50
25; 38; 49 (3/4; 1)
40
3.2
120
15.7
180
28.3
F09
138
25
55
30; 38; 48 (1)
90
7.0
240
31.0
320
50.0
F10
150
25
60
38; 48; 49
125
10.0
340
44.5
470
74.0
F11
165
30
65
42; 50; 55 (1 7/16)
220
17.2
620
81.0
870
136.0
F12
180
40
75
50; 60 (2 3/8)
460
36.0
1200
157.0
1700
267.0
F13
200
30
75
35; 55; 65 (2 3/8)
520
41.0
1300
170.0
1850
290.0
1) The transmitted power increases as the width B is increased.
2) Tapered bores and special dimensions can be manufactured on request.
3) Motor power is calculated using a safety factor of 2.
Final selection of the clutch should be accomplished by SUCO!
d = bore dia.
d max. = max. bore dia.
B = flyweight width
D = inside dia. of drum
M = torque
nE = engagement speed
nB = operating speed
Construction and mode of operation
The flyweights are seated on the profiled hub and are held against it by tension springs, which are hooked into the linings. Discs locate the flyweights axially. Each lining has a crimping on its inner surface to locate it on the flyweight. This prevents the linings from moving sideways. As the profiled hub rotates, the centrifugal force acting on the flyweights overcomes the spring force. When the speed is high enough, the linings contact the clutch drum, and friction between the linings and the drum allows torque to be transmitted between the two.
profiled hub

flyweights

tension springs

linings

clutch drum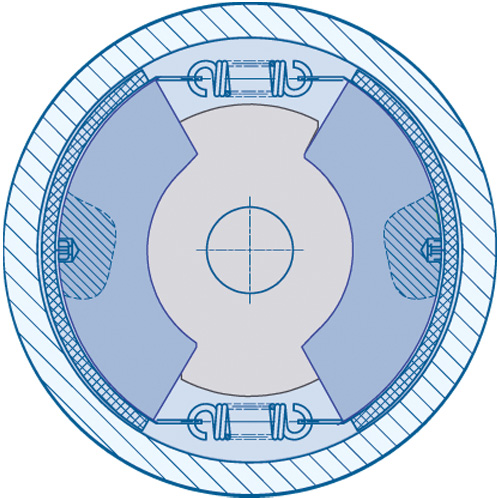 High efficiency with a self-increasing effect

Performance factor of 2.5

Compact design